Purchase the Warlock Tier (Win/Mac/Linux)!
The Shadowgate Warlock Tier is perfect for those that want not only want to experience this new re-imagined Shadowgate but want a ton of extra goodies to go along with it. Everything from an epic soundtrack to a digital calendar and more!
What's in the Warlock Tier?
Everything below is included in the Hero Tier.
Shadowgate Digital Download
Just like the Ranger Tier, you get a Windows or Mac Steam key at a HUGE discount! The game features awesome first-person adventuring through tons of beautifully illustrated rooms, new and updated puzzles, in-game and Steam-based achievements as well as a full, digitally-orchestrated, dynamic soundtrack and a second retro soundtrack featuring Hiroyuki Masuno's original NES composition.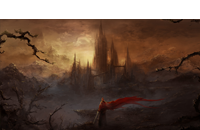 Digital Soundtrack
A great tier for music lovers! First, you get an epic soundtrack created for the game by uber-composer Rich Douglas. The score features 25 original and NES-inspired orchestral tracks. Also included is VanStratho's headbanging metal suite. In case you haven't heard the gentlemen's music, here's are a few tracks for your listening pleasure. The first two are full tracks from Rich and the third, a preview from VanStratho's track. Enjoy while you check out the rest of the goodies.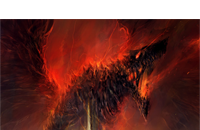 The Art of Shadowgate
Featuring the creative talents of environmental speedpainter Chris Cold and cut-scene artist Wang Ling, this 60 page digital book contains dozens and dozens of paintings, illustrations, concepts and game room art from Shadowgate. It's a great companion piece to the game and certainly tons of fun for someone who loves fantasy art!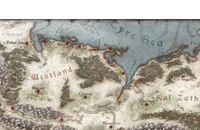 Digital Map of the Shadowgate World
Created by master cartographer Jared Blando, this digital map shows the land of Kal Torlin and not only features the Gatekeeper Mountains and the Castle Shadowgate but an entire continent of locations never seen before. We provided you with a boat load of resolutions so that you can turn it into your favorite wallpaper if you wish!
2016 World of Shadowgate Digital Calendar
You'll also receive a 2016 digital wallpaper calendar "The World of Shadowgate" in a good number of resolutions. This 14 month calendar features the wonderful world outside of the castle proper and shows a lot of locations that have yet to be explored in the Shadowgate universe but may very well yet be (hint hint). Note: each illustration has been provided without the calendar for your convenience as well.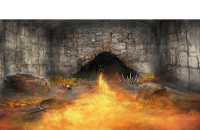 Shadowgate Series
The Shadowgate Series of desktop wallpapers feature five of the most iconic locations from within the game – all beautifully painted by master speedpainter Chris Cold, specifically for this re-imagining of the classic first-person fantasy adventure. We've made sure that we gave you a ton of different resolutions so that you can splash Shadowgate on any type of device. And who knows, we mayhave even thrown in a few more because that's how we roll!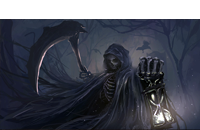 Grim Reaper Series
We want to pay homage to our favorite other-worldly protagonist in Shadowgate: The Grim Reaper! Perhaps you remember seeing him more than once on your NES or GBC but you haven't seen him like this! We've asked our digital artists to give us their interpretation of our deathly host and they created eight NEW desktop wallpapers for you. Again, we were sure to give you a bunch of different resolutions so there's not need to fear (the Grim Reaper that is.)
What's in the Ranger Tier (Windows/Mac/Linux)?
Click below to find out!
Where can I buy the iOS (iPad 3 or Newer) version?
Click below to find out!
PLATFORMS:
WINDOWS | MAC | LINUX | iOS
GENRE:
Adventure
LANGUAGES:
English
Español
Deutsch
Français
Italiano
MIN SPECS:
2.4ghz processor or better
2gig of hd space
1gig of ram
512mb of dedicated video memory
Win XP or Mac OSX or better
iPad 3 or newer
SCREENSHOTS:
VIDEOS:
New Trailer 
October Update
Launch Trailer
NES Side by Side Trailer
Storyline Trailer 
Retro Re-Imagined Trailer 
QUESTS CARD GAME: