Déjà Vu: MacVenture Series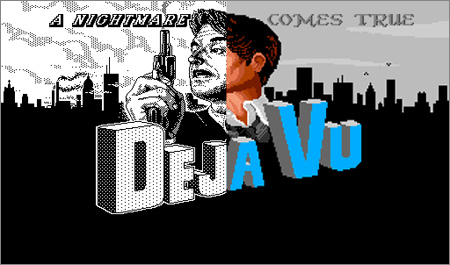 Okay pal, here's the setup. You wake up on the floor of a bathroom and you don't know who you are or how you got there. You're searching through a seedy Chicago bar – decorated with one someone familiar but very dead body. You gotta find out show you are and who iced this guy… in a hurry! Otherwise the cops are gonna peg you for Murder One. Déjà Vu. In this case, what you don't know can kill you.
The original Macintosh AND Apple IIgs versions are back, featuring gumshoe detective Ace Harding! Come see where the world of first-person adventures started and experience the classic 1940's noir game as it appeared in 1985.
KEY FEATURES:
Two Original Versions: Get both the 128k black and white Macintosh version and the Apple IIgs 16-color version.
First Person Adventuring: Over 50 game rooms of Noir adventure.
Drag and Drop: Utilize the classic, groundbreaking windows-based, drag and drop object system.
Puzzles: Tons of great puzzles.
Customized UI: Move the UI around to suit your needs and resize the retro graphics to full screen.
Save System: Save your progress at any time – create as many save points as you wish.